Better Home Improvements (Bunbury)
Members will get 5% discount on the total purchase price*. Please print out your member's page or show your Membership + Reward card to the business to redeem your discount.

Business Information
Trading hours:
Monday to Friday: 9AM – 5PM
Saturday: 9AM – 3PM
Address: Unit 7E Homemaker Centre Homemaker Pde Bunbury WA 6230
Phone: (08) 9791 7588
Fax: (08) 9721 4245
E-mail: admin@betterhomewa.com.au
Website: www.betterhomewa.com.au
Where are we?
Find us on Google Maps:
Better Home Improvements, based in Bunbury , Western Australia , has over 20 years experience in the home improvement and renovation industry. We have a qualified and experienced team who can assist you in your home improvemements including, insulation, Speedheat Underfloor Heating, Garden Bay Windows, gutter guard and skylight (including Velux) needs throughout the whole South West – From Bunbury to Augusta to Collie and surrounding areas. You can join the many satisfied customers throughout regional WA who have been delighted with our services and enjoy the enhancement we've given their home.
Our competent team will give your project the attention it deserves. Whether you want to insulate your home, installing a skylight, Better Home Improvements will provide you with a free, accurate and prompt quote, and should you choose our company, we'll work efficiently to complete your project on time. We pride ourselves on keeping the area we're working on, as mess-free as possible.
We'll provide obligation-free advice and recommendations if you're not yet clear on how you would like to proceed. You can be confident in the experience and capability of our team, and we're confident you'll enjoy working with us.
So why choose us? …..
•You want someone to respond quickly to provide a free quote for the work. Now that you've made a decision, you want to proceed with the next step quickly.
•You want an accurate quote which will be adhered to responsibly, and ensure the workmanship and materials are the quality you want.
•You want a top quality product at the right price which is why we use only the best products available at the best prices we can get.
•You don't want to pay too much ; but you also realise that good advice and service along with quick and worryfree installations does not arise from choosing the lowest quote. You're prepared to pay a fair price for good work and know you'll be satisfied with the end result.
•You want your project completed on time and within quote with a minimum disruption to you.
•You want the mess kept to an absolute minimum , respecting that your home and surrounds are important to you.
•You want a company you can rely on, not contractors blamed.
•You want to work with people who are accessible and friendly , who remain close to you and your project.
•YOU WANT PEOPLE WHO CARE – We treat you and your home the way we would like to be treated.
Supply and/or install of:
Insulation
We install your Pink Batts the way they should be, to achieve the maximum benefit from this fantastic energy saving insulation product. We can remove unwanted insulation, and replace with the clean and economical comfort of Pink Batts.
Pink Batts come with a lifetime warranty (certificate) on both the product and the installation of the insulation. This reassures you that it wont blow around, settle or deteriorate in time.
You will find batts laid in your ceiling space dramatically reduces the temperature in your home by cutting down on the radiated summer heat transferred from your roof space into the rooms below. During winter the same batts cut down on the heat escaping from heating appliances through the ceiling into the roof space.
Better Home Improvements also supplies Concertina Foil Batts that are great for in walls and under the floor. Concertina batts reflect 97% of heat in Summer trying to enter the building ( keeping it out of your roof cavity and not radiating heat into your house) and in Winter reflects 97% trying to escape (so keeps in the house to keep you warm).
Clear the clutter and create more space in your home.
Store the Christmas decorations and the camping gear or those items you just cant let go. The capacity for storage in your attic can be greater than many garden sheds and potentially more secure so take advantage of this area already existing in your house.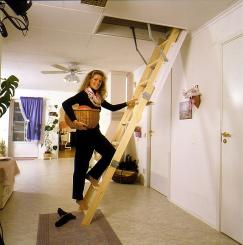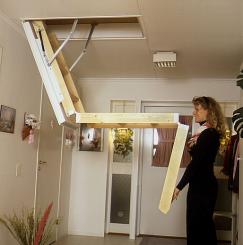 Suitable for most ceiling heights an attic ladder from Hiding Stairways offers a simple storage solution by providing easy access to the attic area and folds away after use. They are sturdy and easy to use. Hiding Stairways latest models from Europe are superbly finished and would add value to any home.
They all come with easy to follow installation instructions and are suited to the d.i.y.er and home handyman.
Underfloor Heating
We are the South West Agents for Speed Heat.
Clean heating, efficient heating, responsive and completely invisible heating: Speedheat under floor heating systems (also known as underfloor heating systems) are installed directly under all types of floor coverings including tiles, carpets and timber laminates.
The patented 1 mm-thick design of under floor heating (underfloor heating) element means that the Speedheat floor heating technology is suitable for either heating new builds or for retro-fitting heating in existing buildings, with many domestic floor heating and commercial floor heating applications.
This unique 'space-age' design results in an extremely fast response under floor heating system, without the additional build-up height as required with other under floor heating systems (underfloor heating systems), resulting in large savings in installation costs and heating electricity consumption compared to conventional floor heating systems.
Skylights & Roof Windows
We can install a skylight or roof window from a wide range of different designs and bring inside some natural light. Most skylight sizes and styles are available with easy-to-fit flexible ducting which means you have a wide choice of location for both the roof dome and the ceiling diffuser. Alternatively you can choose from the high quality range of Velux roof windows. These suit many different applications including raked ceilings or loft situations.
Meeting your needs:
•Various styles and sizes of skylight
•Premium range of Velux roof windows. These are timber framed vented or fixed pane windows.
•Professional installation
Roof Windows
Gutter Guard
Garden Bay Windows
———————————————————————————————
*Conditions apply, excluding sales items. See in-store for further details.