Safeway Contracting - Roofing (Mandurah)
Members will get 10% discount on the total purchase price*. Please print out your member's page or show your Membership + Reward card to the business to redeem your discount.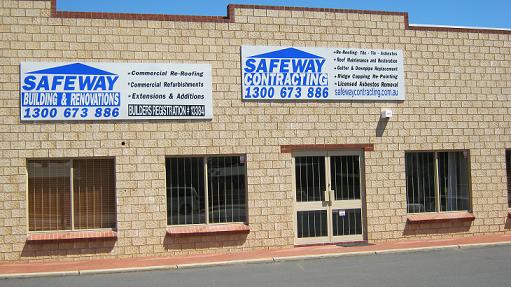 Business Information
Trading hours: Monday - Friday 8:30 AM - 5:00 PM
Address: U1/63 Gordon Road, Greenfields
Phone: (08) 9583 3488
Fax: (08) 9583 3158
E-mail: enquiries@safewaycontracting.com.au
Website: www.safewaycontracting.com.au
Where are we?
Find us on Google Maps:
Safeway Contracting is a W.A Based Company who are experts in the field of Asbestos Removal, Re Roofing, Protective Sealers and Scaffolding.
If you have a project that you can't afford to take a chance on then Safeway Contracting are the people to talk to. We are proud to share the Safety Standards and have the Buying power of the big end of town, coupled with the Family Business values and attention to detail of a small family run business. Safeway Contracting is a fully insured and fully licensed company and can help whether your project is Domestic, Industrial, or Commercial.
Owned and run by Kane Kelly since establishment Safeway Contracting offers you the piece of mind you are looking for. Give us a call and you will soon learn what hundreds of our clients already know, Do It Right, Do It The SafeWay.
About Us
Owned and Run by Kane Kelly since establishment Safeway Contracting has satisfied 1000's of customers with prompt reliable service, fair pricing, and honesty.
What sets Safeway Contracting apart from the crowd is the hands on role its owner still takes in the business. Its owner, Kane Kelly, still carries out most of the Quoting, and Supervises all the work himself, he ensure customer satisfaction on every job before collecting payment.
Nickol Bay Hospital Roof Replacement- Karratha
Pardellup Prison Farm Asbestos Roof Replacement- Mt Barker
HMAS Stirling Asbestos Roof Removal- Garden Island
Rottnest Lodge Asbestos Roof Replacement- Rottnest Island
Geordie Bay Units Asbestos Roof Replacements- Rottnest Island
Kingston Barracks Asbestos Roof Replacements- Rottnest Island
South Thomson Units Asbestos Roof Replacements- Rottnest Island
WWII Battery Observation Post Protective Coatings and Roof Installation- Rottnest Island
Wembley Community Centre Tiled Roof Replacement- Wembley.
Lancelin Sporting Cente Asbestos Roof and Wall Replacement- Lancelin
Guilderton Asbestos Roof Replacement- Guilderton
Ledge Point Country Club- Asbestos Roof Replacement- Ledge Point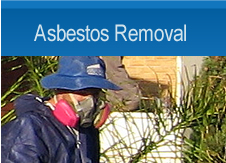 Perth Asbestos Removal Service
If your talking asbestos removal in W.A. then your talking Safeway Contracting. Safeway Contracting are proud to have brought a new standard of safety to Asbestos Roofing Removal Projects in W.A. at a price that is affordable whether you have a small project around your home, or you have a large commercial project that you need done right.
Safeway contracting can handle anything from a few square metres of Asbestos Sheeting in your home to 1000's of square metres on your commercial project.
Safeway Contracting uses over $20,000.00 of Specialised HEPA Filtered Worksafe Approved Vacuum Equipment, ensuring your job is carried out to the highest standards of safety.
Safeway Contracting are licensed through worksafe (WAD0168 & WARA 589) to handle your asbestos removal project. We are also fully insured with $10,000,000.00 public liability cover for asbestos related work.
Do not take any chances with unlicensed or uninsured contractors. It doesn't cost any more to have it done the Safeway!
Phone us now and discover what so many West Australians already have, Asbestos Roofing Removal in W.A. just has to be done the Safeway!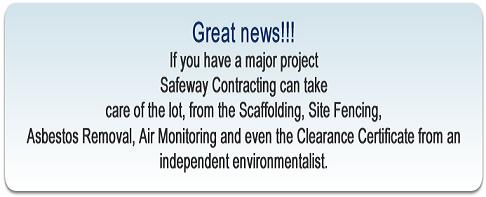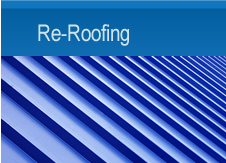 Perth Roofing Service
Safeway Contracting can handle your Roof Replacement without the headaches.
In most cases your roof can be replaced in 1-2 days, it's that easy. Using only quality BlueScope Steel we can replace your, Asbestos, Tin, or Tiled Roof, with a beautiful ColourBond or Zincalume Roof.
Safeway Contracting can also replace your gutters and downpipes and install Perth roofing insulation while we're there. Using only professional tradesmen all Safeway Roof Replacements are Fully Guaranteed.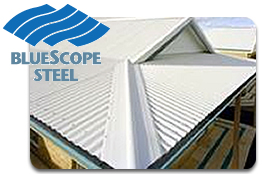 If you or your employees are working at height you may be risking your safety, your insurance and huge fines!!
Safeway Contracting can solve your working at height problems. Our unique Tube and Fitting Handrail System provides a cost effective solution to working at height. If a working platform is required than we can also erect full modular scaffolding.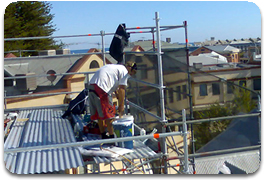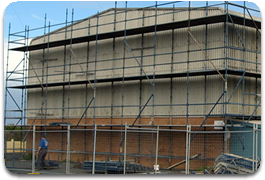 Protect your driveway, outdoor entertaining area, limestone walls, and garden features, from oil stains, spilt drinks and general mould and grime. Safeway Contracting apply a natural finish, gloss, or non-slip sealer to your prized outdoor area, using only top quality products.
We can High pressure clean your existing area using 3300psi pressure cleaners or apply to a new surface as soon as its layed.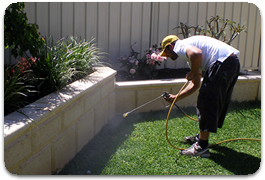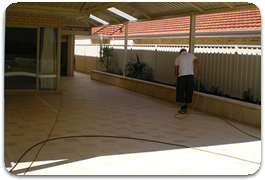 ---------------------------------------------------------------------------------------------
*Conditions Apply, discount up to a maximum of $1,000. See in-store for further details.