Bouvard Pest Control (Mandurah)
Members will get 10% discount on the total purchase price*. Please print out your member's page or show your Membership + Reward card to the business to redeem your discount.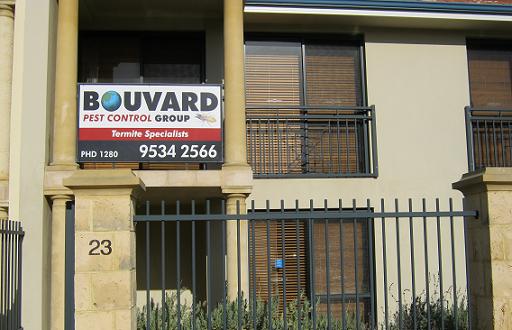 Business Information
Trading hours: Monday-Friday 9.00AM-5.00PM
Address: 23 Westview Parade Wannanup
Phone: (08) 9534 2566
Fax: (08) 9534 2544
E-mail: bouvardpestcontrol@bigpond.com
Website: www.bouvardpestcontrol.com.au
Where are we?
Find us on Google Maps:
Bouvard Pest Control has been operating for 10 years and still going strong. Giving our clients the best possible service, termite management is our specialty. Pre purchase timber pest inspection reports to AUSTRALIAN STANDARDS is a must if you are purchasing a property, the termite is your enemy, protect your biggest investment before it gets destroyed and eaten up.

We have moved to 23 Westview Parade PORT BOUVARD
Shane and his team would like you to come and see their new office.

"Every Home needs us"
AREAS COVERED:
Mandurah
Rockingham
Preston Beach
Waroona
Dwellingup
Pinjarra
Harvey
& surrounding areas...
Bouvard Pest Control team are highly trained in Pre-Purchase & Timber Pest Inspections.
6 REASONS WHY YOU MUST HAVE A PRE-PURCHASE TIMBER PEST INSPECTION:

"Every Home needs us"
1. Save thousand of dollars on serious termite damage.
2. Know what you are getting into before your hard earned money changes hands.
3. Get the most out of your offer and acceptance by forcing the seller to pay for some or all of the necessary repairs.
4. Have peace of mind that you have not brought a termite nest.
5. Avoid regretting your purchase.
6. Avoid costly repairs and law suits for damaged timber.
Ask your technician does your inspection come with a timber pest replacement warranty if they have missed something?
Because ours does......that's right ......a full timber replacement on damaged timbers.
TIPS TO AVOID TERMITE DAMAGE
DO have your licensed Pest Control Operator conduct thorough inspections of your home & surrounds at least every 12 months.
DO keep all sub-floor areas clean dry and well ventilated where possible.
DO fix up leaking plumbing eg: down pipes, gutter & taps and ensure that there is good drainage around the house.
DO NOT build up soil & mulch or garden beds against your house.
DO NOT store timber or wood-based materials under or against the house.
It's your home. Why risk it?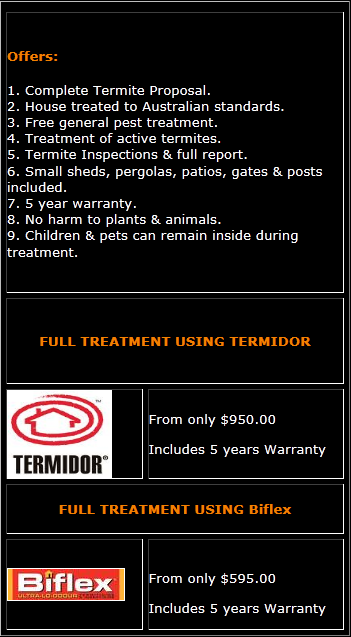 ---------------------------------------------------------------------------------------------
Conditions apply. See in-store for further details.