Kev's Wheelie Kleen Mandurah
Members will get 5% discount on the total service fee*. Please print out your member's page or show your member card to the business to redeem your discount.


Business Information
Trading hours: Monday to Friday 8.30am to 5.00pm
Address: Mobile service
Phone: (08) 9583 4074
Mobile: 0401758113
E-mail: kevswheeliekleen@bigpond.com
Website: www.kevswheeliekleen.com.au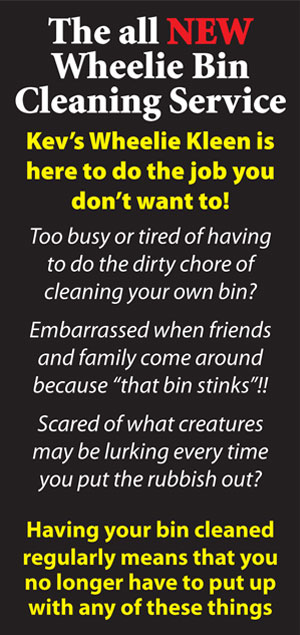 Services & Prices | FAQs | Testimonials
As you are probably well aware an unclean bin can be the most unhygienic thing in the home or workplace.
Besides the smell and unsightliness of a dirty bin, especially in our warm climate, it is a breeding ground for germs and bacteria, which can cause illness, especially to infants and the elderly. Also the attraction of flies, ants, rodents and spiders all pose their individual problems.
Having your bins cleaned on a regular basis can eliminate all of these problems.
We are all responsible for the cleanliness of our bins, however in our busy jobs and lifestyles we often would not have the time, the facilities or the stomach, to carry out this dirty chore.
There is also the potential to contaminate our precious waterways by letting cleaning chemicals and waste run into our drains, as well as the waste of our most precious resource, water.
There is now a solution to all these problems; "Kev's Wheelie Kleen"!

Before

After

Our fully self contained "Wheelie Kleen Machine" will turn up on the same day that your bins are emptied and your bins will be:
Thoroughly pressure cleaned both inside and out.
Cleaned with HOT water.
Disinfected with antibacterial detergent.
Deodorized and scented.
Placed back to their designated area!
Because we are a mobile self contained unit, and turn up on the same day that your bins are emptied, the disruption to your home or workplace is minimal.
We use 100% biodegradable detergent and our water is filtered and recycled, then disposed of as specified by the Water Corporation.
Our service has the full authority of the City Of Mandurah, Clean Away and the Water Corporation.
If you are conscious of all the problems posed by dirty wheelie bins, and are looking for an environmentally friendly solution, then please do not hesitate to contact us for a quote.
---------------------------------------------------------------------------------------------
*Conditions Apply, discount doesn't apply to existing customers.