2 THE Max Carpet Cleaning - Tile and Grout Cleaning (Mandurah)
Members will get 5% discount*. Please show your member's page or your membership card to this business to redeem your discount.
Business Information
Website: www.2themaxcarpetcleaning.com.au
Mobile: 0416 470 222
Email: info@2themaxcarpetcleaning.com.au
We use the best carpet cleaning machine on the market to provide a deep clean with faster drying time.
Our Machine cleans your carpet from all directions with 750 mechanized cleaning passed per minute. Leaving your carpets cleaner and drier.
Our professional services include:
Carpet & Upholstery Cleaning
Mattress Cleaning
Tile Cleaning
Window Cleaning
Residential & Commercial Cleaning

Our Method

Our revolutionary carpet cleaning machine has a rotary jet extraction cleaning head which rotate over the carpet at 250 r.p.m. The cleaning head has three protruding vacuum slots and three spray jets producing 750 multi-directional injection/extraction cleaning passes per minute, thoroughly cleaning all sides of the carpet fibre. The unique dome shaped design of the cleaning head encapsulates the spray jets to create a "Washing Chamber" effect in the cleaning zone, delivering maximum cleaning to the carpet fibre. This powerful combination of agitation and rotary flushing action enables our machine to clean dirty carpets far more effectively than conventional carpet cleaning systems.

Conventional carpet cleaning "wand" methods cannot offer results like this!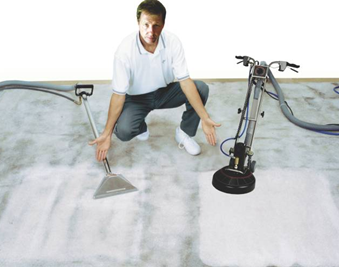 Frequently Asked Questions
What is the difference between dry cleaning and steam cleaning?
Steam cleaning is a deeper clean, lifting out the deep down, ingrained grit and dirt. Dry cleaning is a surface clean. Steam cleaning sometimes also referred to as 'Hot Water Extraction'. In this method, hot cleaning solution is sprayed under pressure onto the carpet and is immediately extracted with a vacuum source. The dirty solution is collected in a recovery tank or pumped directly to the sewer. The advantage of this process is that it has the ability to flush out large amounts of soil and contaminants in your carpet. The world's largest textile manufacturers and carpet experts recommend steam cleaning as the best method. Dry cleaning is recommended for a light clean between steam cleans.
Will all the stains be removed?
We use a special range of cleaning solutions. However some stains may have set, which means they could be permanent. We realize there are a few home remedies that can remove certain stains however, there are many more that just make the stain harder to remove and can lead to a permanent setting of the stain. So we can't guarantee to remove every stain but the longer the stain sits the harder it may be to clean. So give us a call – you will be surprised at the impossibly tough stains we get out from your carpet or upholstery.
How often should I have my carpets cleaned?
That depends on a number of factors but mostly on how much traffic your carpets carry and how dirty they become. Most domestic carpets should be cleaned at least once a year, especially with a very young family and or pets. Commercial carpets should be cleaned more frequently, particularly in high traffic areas or in areas subject to frequent spills and spoils, for example, a restaurant. Remember, too long an interval between cleans will inevitably lead to premature carpet wear.
Carpet Drying Time
Carpets are generally dry within 3 to 4 hours. However they may take longer if your carpets required extra cleaning to remove heavy dirt or stains or the weather is wet. We also use a air mover on wet weather days to help speed up the drying time.
Furniture Removal
Prior to our arrival, please move as much furniture out of the room as possible. Should you wish to leave furniture in the room then we recommend putting a plastic barrier (e.g. shopping bags) under the legs to prevent the stain or metal marks from seeping through to the carpets.

Get a fresh new look at your surroundings through clean windows.
We are available for Domestic Window Cleaning & single storey Office Window Cleaning.
You can book our Window Cleaning Service on it's own or with our Carpet Cleaning Service.
Our complete Window Cleaning Service covers windows inside & out, window tracks & screens brushed clean. We also knock down any cobwebs in our way around the outside of the property.
If you require only the outside windows or just the inside windows cleaned we will tailor a Window Clean to your requirements.
Let us bring back the sparkle to your property today!
Why chose us? We are:
Owner Operated
Fully Insured
Police Clearance
Mandurah Based

*Conditions apply, see business for details